At Credit Adjustments, Inc. (CAI), making a difference in the communities we serve is the foundation of everything we do, which is why we want to highlight some of our employees' passions and missions. This year, we asked a few CAI representatives to share how they work to make a difference outside of their jobs. Here's what they said:
Ken Stoll
Providing Hope to the Homeless

CAI VP of Sales & Marketing Ken Stoll is passionate about making a long-term difference in the lives of the homeless community. Columbus Relief works to get people off the street and into rehabilitation for a better life. "I love Columbus Relief's message," says Ken. "Their motto is 'Loving People Where They Are,' and I think that's the key to truly helping people—by loving them before we ask them to change."
A friend of Ken's left his job to start Columbus Relief—and when Ken saw his passion for the organization, he knew he had to support this organization in any way he could. Every Saturday, volunteers in a colorful bus from Columbus Relief visit the homeless community to bring them a warm meal and interact with them in an inviting atmosphere.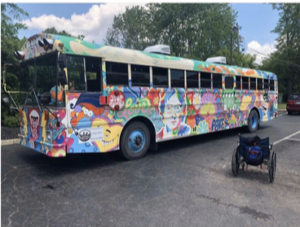 By providing soup and fellowship, Columbus Relief meets immediate needs—but they don't stop there. The weekly meal and interaction time opens the door for long-term relationships that eventually empower people to be self-sufficient through skills training and even peer mentorship. "Columbus Relief is making an evident impact in our community," says Ken. "They are instilling hope into hopelessness."
Through his involvement with Columbus Relief, Ken isn't just offering soup to the hungry; he is also offering them a chance to start a new life. The mission behind the organization keeps him returning to it year after year to support the homeless community and empower them to move beyond poverty.