New call center will create 200 jobs in Uptown community.
Toledo, Ohio – April 23, 2019 – Credit Adjustments, Inc. (CAI), a faith-based call center and receivables management corporation today unveiled its second Toledo location, a 15,000- square-foot renovation on the second floor of the Business Technology Center.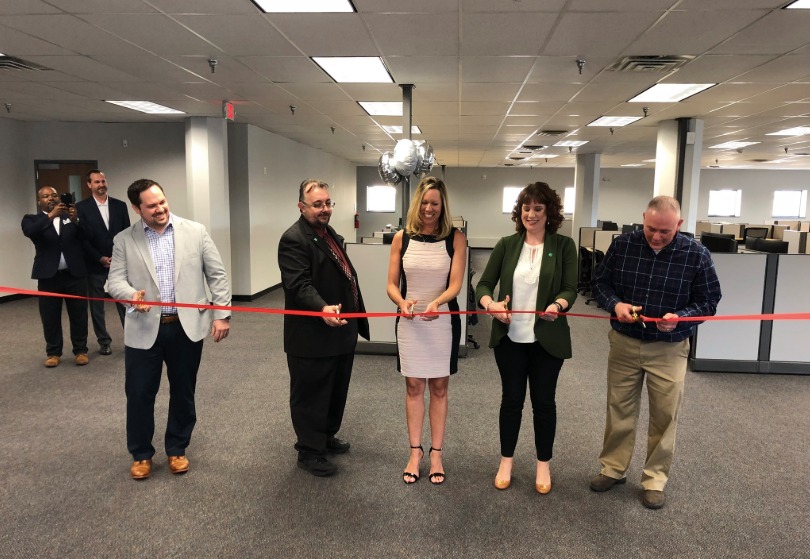 "This second Toledo location is a strong testament to our investment in this community," says Michael Osborne, Chairman of the Board at CAI. "We want to positively impact the people here, bringing jobs and opportunities in nontraditional ways through partnerships and wrap-around services. It is growth for our business, but more importantly, it is growth for this great city."
In just one year, CAI outgrew its first call center on the third floor of ProMedica's Ebeid Institute. The second call center will provide a workspace for an additional 200 CAI associates.
Beilharz Architects and Rudolph Libbe Inc., of the Rudolph Libbe Group, the design/build contractor, led the renovation.
This spring, construction also will begin on CAI's new headquarters and call center in Defiance, a modern, two-story workplace that will include an atrium and training and collaboration spaces. The building will be unique among call centers, with large windows that offer views of nearby wooded areas and make the most of natural light.
CAI has more than 385 staff with offices in Defiance and Toledo, Ohio, and Manchester, New Hampshire, along with a developed network and several partnerships across the United States.
About Credit Adjustments, Inc.
Credit Adjustments, Inc. (CAI) is a world-class leader in receivables management. Founded in 1964 and headquartered in Defiance, OH, CAI maintains call centers in Toledo, OH, as well as Manchester, NH. CAI employs actionable analytics with experienced personnel to anticipate customers' needs, develop innovative ideas and provide a fully secure suite of contact management solutions. As a people-first call center, CAI partners with clients and their communities to keep people at the center of all their efforts. To learn more, visit: www.credit-adjustments.com.