Through its generous donation to Children's Scholarship Fund New Hampshire, Credit Adjustments, Inc. supports local community.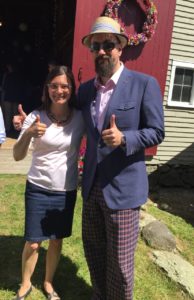 Defiance, Ohio – Aug. 22, 2019 – Credit Adjustments, Inc. (CAI) believes a crucial component of long-term success is giving back to the community—which is why its Manchester office recently donated $30,000 to the Children's Scholarship Fund New Hampshire. CAI has been actively involved with the organization since its beginning, providing donations and sponsorships that support hundreds of local children.
"Empowering the next generation is important to us because it's a long-term investment in the future of our workforce," says CAI CEO, Jason Osborne. "When kids get the opportunity to go to better schools and receive a quality education, it changes the course of their lives—and we're honored to be part of that."
Giving back is a guiding principle at CAI. Through events, volunteer opportunities and partnerships, CAI invests in its local communities to improve others' lives. "CAI's continual support and assistance through consecutive annual financial donations has made a significant impact to our local children who without these educational opportunities would not be able to attend a school that meets their unique needs," says Kate Baker, executive director of the Children's Scholarship Fund New Hampshire.
CAI has been donating annually to the Children's Scholarship Fund since 2015. To learn more about CAI and the people it serves, visit credit-adjustments.com.
About Credit Adjustments, Inc.
Credit Adjustments, Inc. (CAI) is a world-class leader in receivables management. Founded in 1964 and headquartered in Defiance, OH, CAI maintains call centers in Toledo, OH, as well as Manchester, NH. CAI employs actionable analytics with experienced personnel to anticipate customers' needs, develop innovative ideas and provide a fully secure suite of contact management solutions. As a people-first call center, CAI partners with clients and their communities to keep people at the center of all their efforts. To learn more, visit: www.credit-adjustments.com.